About the Hotel
To ensure the comfort of delegates and to avoid time lost in transportation between the 2010 CIML meeting venue and delegates' hotels, it has been decided to hold all the meetings in a single location in Orlando, where all the delegates will also be accommodated. The DoubleTree Orlando has been selected; located in the heart of Orlando, Florida, it is just steps from the entrance to Universal Orlando on International Drive and only 12 miles (19 km) from Orlando Airport. Housed in two grand towers with sweeping views of Orlando's world-famous theme parks, the hotel features 742 newly renovated guestrooms, including 19 suites.


The Rooms

OIML delegates will be offered a spacious "2 Queen Beds" room with many amenities: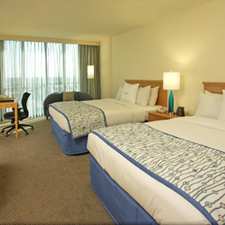 Negociated room rates

The following rates apply from 17 through 29 September 2010:
- "2 Queen beds" room (single occupancy): USD 99 per night (excluding breakfast)
- "2 Queen beds" room (double occupancy): USD 109 per night (excluding breakfast)
(NB: Add USD 10 per additional person sharing the same room)


Check-in time is 12:00 and check-out time is 10:00.


How to book your room(s)
IMPORTANT:
Delegates should please make their room reservations directly with the DoubleTree Orlando,
quoting the Group Code Reference "NIS" when booking.


There are two ways to book your hotel room:
1) Online (this is the method preferred by the DoubleTree Hotel) via the Hotel's secure web site (a credit card will be required) - click here to book:

or
2) By fax using the Word form that you can download here:
Please note to guarantee this special room rate, bookings must be made prior to 21 August 2010. All individual guests will be responsible for booking their own rooms, and for settling their own accounts on the day of departure by cash or credit card. Personal cheques will not be accepted unless otherwise approved in advance by the Hotel Financial Controller. On arrival a pre-authorization will be taken on the client's credit card.